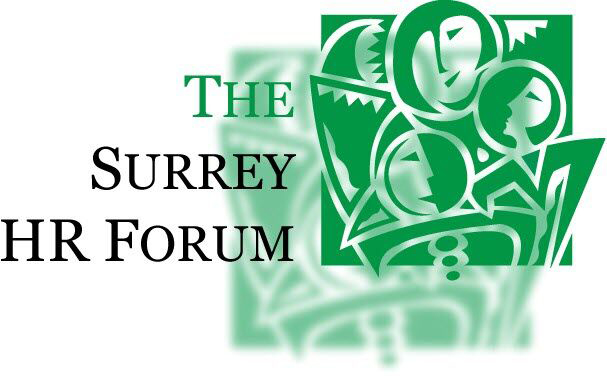 What is the Surrey HR Forum?
Developed for HR professionals in Surrey and the surrounding area. The forum is a member-only networking and learning environment where you, and your HR peers, will learn about the latest challenges and opportunities facing the profession. Launched in 2009 and now has a membership of over 350 local HR professionals. Recent topics explored by the forum include GDPR, mental health in the workplace, changes in legislation (interactive workshops), assertiveness at work and successful interviewing techniques (training sessions). A strict 'non-sales' environment where you can learn and network with other like-minded Surrey HR professionals. Take 2 minutes to apply for your FREE membership Join the Surrey HR Forum today
Why should I join the Surrey HR Forum?
Attend professionally-run FREE workshops, conferences and updates.

Network with HR peers from a range of industry sectors in your local area.

Receive priority booking invitations for the Surrey HR Forum Annual Conference and all other events.

Learn from the professionals about the biggest opportunities (and threats) that affect your sector and your role in HR.
See what our members say ....
Last Year's Annual Conference
'2018 - A Year of Change'
2018 saw several changes that affected the HR industry and with Brexit on the horizon, this event focused on the challenges that laid ahead in 2019.  The speakers provided the latest insight into the changes that have, and will, impact the HR and recruitment industries in the months ahead. Delegates left with a good understanding of how the following could affect their sector and what they can do within their role as an HR professional to 'make a difference'.
Topics covered….
Amplification of Brexit and immigration changes

The current talent crisis – how should HR respond?

The job market – a perfect storm

Engagement – the key to performance, productivity and retention

HR – from defence to offense

The future of jobs and recruiting

Mental health – resilience and change

GDPR

#MeToo

Gender pay gap
"I have been a member of the Surrey HR Forum for a few years now and always find the sessions informative and a friendly, and a welcoming and relaxed environment where you can refresh or expand your knowledge, and always feel comfortable to ask questions. Whether you are new to HR or a seasoned professional, there is always something to learn; I highly recommend joining".

Lorna Melton- Scott – Tuffin Ferraby Taylor

"The Surrey HR Forum has been extremely useful to me. Having inherited the HR Managers role, the free workshops and Annual Forum are great for keeping on top of changes in Employment Law and to meet other HR Professionals to swap experiences and ideas. The discussions on the LinkedIn Page are always helpful and fun to read. I consider the Surrey HR Forum to be a 'tool of my trade'.

Marion Dubery - Krome Technologies Ltd

"The workshops and forums are local and are particularly helpful as they allow me to keep abreast of current HR matters and legislation - talks are always topical, very interesting and informative and provide an opportunity for questions to be asked – there is always a friendly welcome and a personal touch. "

Jo Ashman - Risk Assurance Management Limited

They have managed to get a great group of fellow HR professionals together in this forum and have brought in some very good and well informed speakers to regularly update the group on important and relevant changes in employment law and in HR in general. It's always good to catch up with a good group of people too.

Jackie Sims – Bernard Sims Associates

Some of the meetings are termed as workshops and they are exactly that! Full interaction whilst we work in groups on a variety of scenarios. This, of course, lends itself to further exchanges of information and networking. Sharon said, at the first meeting I attended, that it was a conscious decision for all speakers not to use the Forum as an opportunity to promote their services and this approach has been constant.

Amanda Moncrieff, Head of HR, Jankel Armouring Limited
Join the Surrey HR Forum now
Not yet a member?
Application for membership of the Surrey HR Forum is simple and FREE. Click here to go to the Surrey HR Forum LinkedIn group page and 'request membership'.  
I want to find out more…
email us at surreyHRforum@therecruitmentconsultancy.com OR Call Karen Gilbert, The Surrey HR Forum on 01483 456465
Already a member and wanting to book an event?
email us at surreyHRforum@therecruitmentconsultancy.com to request your place on any of these events.
Future Events
Mental Health – More Than Just A Tick-Box
Workshop on Thursday 9th May 2019, 8.15am – 12.30pm.
Central Guildford
Emma Saccomani – B6 Learning: Mental Wellbeing Speaker Facilitator, MHFA instructor
Victoria Brockbank – Mindful Community: Workplace Mindfulness & i-act Instructor
Legal Update – Bullying And Harassment
Workshop in June 2019 (date to be confirmed).
Central Guildford.
Mike Cole – Penningtons Manches LLP, Partner (Session 1)
The impact of our society's shifting attitude towards discrimination brings new challenges for employers. This has been highlighted by the wave of sexual harassment claims we have all read about, as inspired by the #metoo movement.
Stella Chandler – Focal Point Training & Consultancy (Session 2)
This will be a participative session looking at whether workplace banter is just a bit of fun or whether it is costing UK businesses. Where are the lines between a bit of harmless fun and something that is unacceptable?
Financial Education Workshop
Tuesday 2nd July (am).
Central Guildford.
Further details on this popular workshop with Steve Herbert, from Howden, will be made available soon.
Our previous events from the last 12 months:
November
Annual Conference - 'Mental Health in the Workplace'
January
Employment Law Update
February
Series of Interview Workshops
March
Employee Benefits Update
July
Assertiveness Workshops
2017 Surrey HR Forum