Navigating a stormy economy – your essential guide to survival
Date: Tuesday 18th October 2022
Time: 09:30 to 11:00 (approximate finish time)
Speaker: Steve Herbert, Wellbeing & Benefits Director, Partners&
Known by forum members as a guru on all things financial, Steve will be taking a sideways look at the daunting, and somewhat ominous, challenges that are facing the nation whilst we enter Autumn and the end of 2022.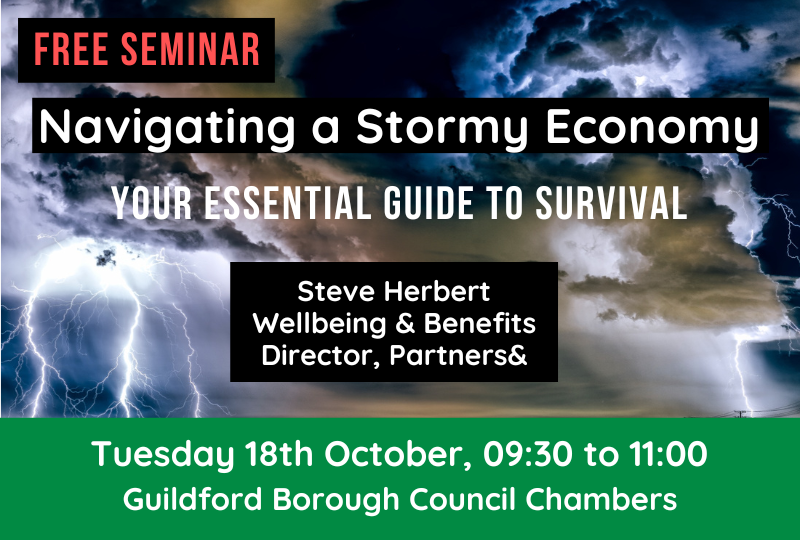 It is safe to say that when we reflect on the unprecedented events we have experienced over the past few years, we are no strangers to uncertainty and unpredictability.  However….
…it is clear that the major threat that is facing us now, isn't in the form of a global pandemic, but as a financial crisis in the UK.
With the £GBP at a record low, what does the future hold for us financially, both at home and the workplace?
Returning from the world of online webinars, we are excited to welcome back Steve for our first face-to-face seminar, where he will take us through what he predicts are going to be the greatest challenges facing us as individuals, businesses and of course HR professionals as we approach the end of 2022.
His subject matter will include (but not be limited to):
cost of living crisis
industrial unrest
candidate shortage
older workers
employee absence
With Steve's practical, pragmatic and frequently humourous approach, this session promises to give us food for thought about the best way to navigate through the uncertain times we are all facing as we enter 2023.
Being our first live event, we envisage this session being very popular, so early booking is recommended.
Thank you for requesting to join this event, please complete the details below and further information will be sent via email.