Employment law update
Date: Wednesday 30th November 2022
Time: 09:00 to 11:00 (approximate finish time) 
Speakers: Mike Cole, Partner and Meghan Vozila, Senior Associate at Penningtons Manches Cooper, LLP 
Venue:  Penningtons Manches Cooper LLP Offices, Guildford
Up-to-date information and recommendations surrounding immigration rules, along with other pertinent updates from one of the forum's most popular speakers, Mike Cole and his colleague Meghan Vozila.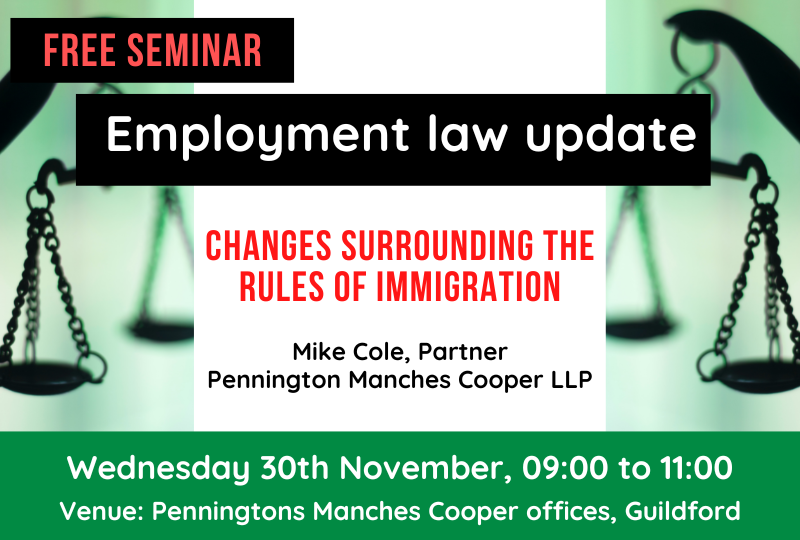 Following our successful programme of webinars that were hosted right across lockdown (and beyond), we are thrilled to be welcoming you all back for our first face-to-face employment law update in over two and a half years!
As a firm favourite amongst all our forum members, our employment law specialist, Mike Cole along with his colleague Meghan Vozila, Senior Associate (and immigration specialist) will look at the pertinent employment law issues that we all need to be aware of as we approach the end of the year, with a specific focus on the recent updates to the rules surrounding immigration.
More detailed information on the topics to be covered will be sent nearer the time, however, we would recommend requesting your place now as numbers will be limited.
We look forward to seeing you there.
Request your place now to avoid disappointment.
Thank you for requesting to join this event, please complete the details below and further information will be sent via email.