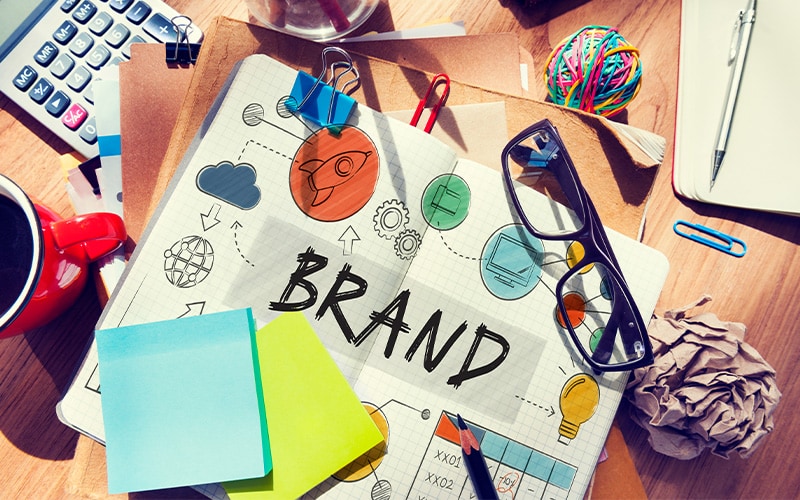 A study from LinkedIn found that companies with a strong employer brand are twice as likely to achieve positive job considerations compared to companies with a weak employer brand. As we are well aware, since the pandemic, people are viewing work to be more than just a salary and they want to work with a company that places a strong emphasis on their brand values and employees' work-life balance. Even with the increase in the cost of living, some people are willing to accept a lower salary to work for a company that matches their values and they feel is right for them.
This blog will demonstrate the importance of how a strong employer branding strategy can influence your company's overall reputation, which in turn, will greatly affect your company's success in finding and retaining strong and productive employees.  Read on to find out how you can help your business stay ahead of your competitors.
What is an employer brand?
Employer brand is a set of attributes and qualities that your company values and implements to ensure high levels of employee satisfaction are continuously maintained.  By positively nurturing your employees, retention rates will be high and your company will be regarded as a desirable employer, which is especially important when the competition for talent is high.  To build a positive reputation for current and potential employees your company's mission, values, communication, culture, diversity, inclusion, compensation and benefits packages all need to be aligned, reviewed and communicated regularly.
Why does employer brand matter?
With many company review sites active, it's not just product-based reviews people will look into before making a decision. People can now read reviews from your past and present employees to determine if they want to work for your company. This creates a highly competitive space when looking to recruit and companies need to be focusing on this to convince potential candidates that they should work for them over a competitor. Having reputable and strong employer brands enables companies to:
Attract top talent
Businesses with better employer brands find it much easier to fill vacant positions and attract top talent. Businesses with happy and content employees also save money on marketing their job vacancies as their employees are more likely to make candidate referrals whilst creating a positive impression through word of mouth. This makes it easier to attract and retain the best talent for your company.
Save on recruitment expenses
Happy employees that feel appreciated are less likely to leave their job, meaning your company can save money on continuous recruitment drives. Higher retention rates also save you time on the lengthy onboarding process, leaving you more time to focus and grow your business.
The importance of a strong employer brand for talent acquisition
A report from The Undercover Recruiter found that more than 80% of recruiting leaders felt their employer brand had a significant impact on talent acquisition. Considering talent acquisition is deeply affected by employer brand then you should consider your employer brand as a crucial factor in attracting and retaining top candidates.
10 steps to grow and protect your employer brand
Now that you understand how important a strong employer brand is for talent acquisition and your reputation, read on to discover how you can grow and protect your employer brand and become a top competitor that your ideal candidates would love to work for.
1. Define your EVP
Your EVP (Employee Value Proposition) describes everything your organisation stands for. It represents your company's core values, missions, visions and culture and is what differentiates you from your competitors. Your EVP could be the golden ticket that ultimately attracts talent to your company as well as retaining your current staff. Before you can start to build and grow your employer brand you need to zone in on what your EVP stands for and what it means to you and your company. Once you are clear on your EVP you can go into creating the best employer brand to help you stand out from your competitors.
2. Focus on whom you want to attract and create your employee personas
Once you have your EVP it's time to focus on whom you want to attract and employ, there is not much point in creating an employer brand to entice people to work for you when you don't know whom you're looking for. Creating an employee persona is a great way to help you define and understand the kind of employees your company could benefit from as well as saving you time and money by knowing the exact job boards and job ads you need to be posting. Some questions you can ask yourself when creating your employee persona include:
What kind of content about employers do they find valuable?
Do they spend time on social media?
What generation do they belong to?
Once you have your employee persona, your employer brand should be aimed at exactly this type of person, for example, if you're trying to attract modern millennials then creating an employer brand based around old-school traditions, might not be the way forward for your company.
3. Define your goals and objectives
It is impossible to create a strong employer brand without understanding your company's goals and objectives when it comes to employees and growth. For example, is one of your goals to increase Glassdoor ratings or is it to reduce the application drop-off rate? Whichever goals and objectives you decide are of importance, base your employer branding strategy around meeting each one.
4. Use employee feedback
Taking advantage of employee feedback is something most employers fail to use to their advantage. Employee feedback can reveal problems within your corporate culture that you might be unaware of. Listening to your employees and proactively acting on their concerns can increase employee happiness and the company's overall retention as well ensuring you can create the most positive experience for future candidates.
5. Audit yourself
Check where you may be bringing a negative onboarding, recruiting and retaining experience and work with your team to determine where you can improve these experiences. Use employee feedback, speak to previous applicants and check out what your competitors are doing to enhance and grow your employee brand.
6. Create a positive hiring process
A potential candidate who experiences a negative application experience can easily share their experience with others via word of mouth, job review sites and social media which can damage a company's reputation. To continue hiring top-quality candidates you need to ensure your application process is fair, consistent and transparent. Try posting job descriptions that read like stories rather than listing qualifications, using the correct terms to gain your ideal applicant's attention. Another great tip is to make sure you communicate with all job candidates throughout the whole process, including those who were filtered out in the early stages.
If you choose to utilise the expertise of a recruitment agency, ensure they are a great ambassador of your brand. If an agency doesn't look after candidates and potential new employees throughout the hiring process, this will reflect badly on the company and could critically damage the reputation of your brand. Good news travels fast, but bad news travel even faster – particularly in a candidate-driven market where demand for talent is at an all-time high.
7. Re-evaluate your onboarding process
Your company values, strengths, and qualities should be evident in the onboarding process to ensure all employees are aware of what's expected from them from day one. This ensures their transition into the company is smooth, transparent, and enjoyable. Additionally, making part of your company culture to ensure employees feel supported and settle in well will not only increase employee engagement and retention but will also work towards improving your employer branding strategy.
8. Optimise employer branding channels
Promote your brand by highlighting the great work your company and your current employees are doing within the community, for the environment and employee wellness. Showcasing your employee's accomplishments is an effective way to show others that not only do you encourage them to use their initiative, but they are positively recognised for doing so. Other content you can work with your existing employees to create can be 'A Day In My Organisation', 'Why I Applied' and 'How My company Takes Care of Me'. These stories can be distributed on various social media sites as well as at networking events. Never hesitate to request your employees to be brand ambassadors on your behalf. This can only help your employer's branding strategy. 
9. Make it an essential part of your HR strategy
Building a strong employer brand strategy is a long-term plan and if you want to succeed you cannot treat it as an afterthought. Prioritise making your recruitment marketing a key component of your overall HR strategy and continue to build on your employer branding along with your team.
10. Ensure you measure your success or failures
Employer branding strategy is a long-term plan that can only be successful if you learn from what is and isn't working. Therefore, it is important that you analyse your retention rates, and review feedback from your employees in-house and via review sites such as Glassdoor to continue to develop and grow your employer brand.
Helping your business improve their employer brand
At The Recruitment Consultancy, we truly understand what it takes to ensure your employer brand is protected; we know that the lack of feedback and communication can be a big downfall for several agencies and can be very damaging for both parties.
Work with us and you can be assured that we will pull out all the stops to represent your company professionally, by ensuring the candidates you see are kept fully informed throughout their journey with you, and us.
Reputation is everything – ours and yours, so it is critical that we look after them both.
Get in touch today and see how we can help.