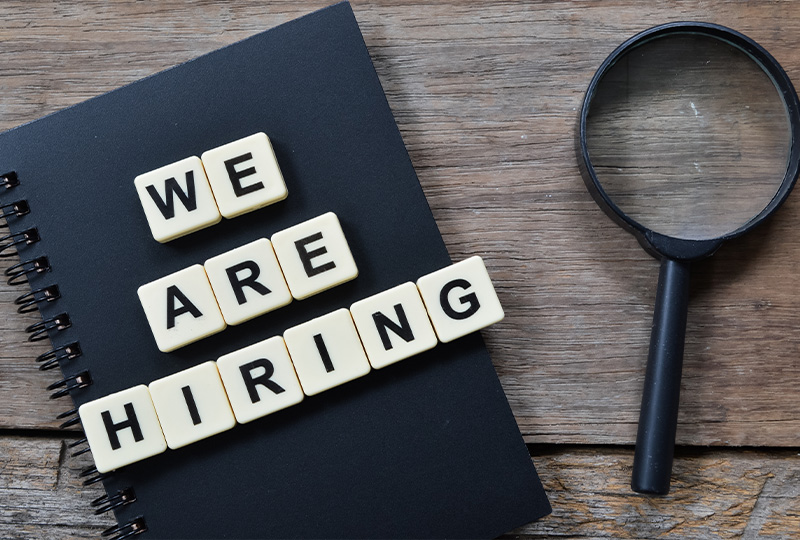 Today's recruitment market is ever-changing and possess a plethora of challenges for companies looking to hire new staff. While some organisations choose to keep their recruitment processes fully in-house, increasingly more employers are opting to outsource to find the right talent.
Not sure whether a recruitment agency will benefit your business? Here are 10 reasons why utilising the expertise of an agency could make finding your next candidate a lot easier. 
Why use a recruitment agency?
1. Save your business time and money
One of the main reasons companies will choose to work with a recruitment agency is to save them time. Recruitment can be a very lengthy and resource-heavy process, especially in a candidate-driven market.
Frequently, businesses that have tried to recruit themselves, will turn to an agency as they will have experienced the difficulty in searching and securing the best talent in today's market. A recruitment agency will have the proven skills, experience and processes to ensure that bringing new hires into your business is cost-effective and time-efficient, therefore allowing you to focus on having a strong workforce, rather than the process of building one.
2. Access to the best talent
For businesses, not only will hiring with a recruitment agency save them time, but they'll have access to the best talent. A reputable agency that is established and well known within its market, will attract good quality candidates whilst maintaining a database of both active and passive candidates.
Passive candidates are often the hardest for companies to find as they are, as the name suggests, not actively looking. They will register with an agency and effectively be softly seeking a new role, therefore, will only want to hear about something if it fits their exact requirements. These candidates will normally possess the skill sets and experience required in the market and will be in high demand, so they can afford to be selective.
Additionally, agencies will be constantly attracting new candidates using proven methods and techniques that ensure their reach will be a lot further; agencies will continuously be proactively searching for candidates who they know will be suitable for their clients, especially in a market where there is a shortage of skills.
3. Access to the most effective job boards and marketing tools
It's very expensive to be using job boards and different search software, but recruitment agencies will have access to these and will know how to utilise them in the best way. Agencies can also utilise other platforms, such as social media platforms to attract the right quality candidates and also advertise vacancies in way that will attract the strongest talent.
All these methods will be far more effective than if a company tries to advertise on one top board to see what results may appear. With the current number of vacancies being higher than available workers, it takes a multi-pronged approach to find the right candidates.
4. Trained, knowledgeable recruitment consultants
Once a candidate has been found, the whole process of interviewing them and getting to the core of their goals and ambitions takes a lot of skill. Trained, experienced consultants will do this better as they know how to interview effectively to establish the aspirations of their interviewees.
Additionally, a consultant's approach will be unbiased as they are not linked directly to the company. It's very easy, if you're not a trained interviewer, to steer conversations in specific directions by not asking the right questions. Whereas an experienced consultant will know how to interview thoroughly, fairly, empathetically and impartially as they are working on behalf of both the client and the candidate. It is the consultant's job to find the right match for both parties.
5. Salary benchmarking support
You might be unsure of the latest salary expectations within your industry or sector, or you might be hiring for a completely new role in the company and not quite sure where to begin. A recruitment agency can advise you on competitive salaries to match specific roles and also the additional benefit that candidates may be seeking.
Established recruitment agencies are at the forefront of the job market and are well-positioned to advise on the current employment trends within their specialist markets.
6. Specialist knowledge
An agency that is experienced in working in a particular sector or industry, will have a good understanding of the challenges and opportunities that are being faced. Therefore, they will be able to offer sound advice and guidance to ensure the hiring processes will be effective and will attract the right talent. It is easy for a company to become somewhat blinkered, so a good recruitment agency will be able to offer broader, unbiased views of the current marketplace and any ramifications of the economy that may affect the process of hiring within that specific sector.
7. Flexible recruitment options
A good recruitment agency will be able to assist a company with the planning of staffing requirements and help them devise a plan that will address their needs on either a short-term or long-term basis.
For example, a company may be looking to hire permanently but could be facing a range of issues due to existing staff being overstretched (this is also relevant when planning for staff absence and holidays). An agency could work with the company to work out how existing resources could be split so that temporary support could be brought in immediately, whilst a permanent hire is being sought. A good agency will manage all of this, leaving the company to focus on its business.
In today's world, managing staff expectations and requirements can be challenging. But there are many hiring solutions that an agency can offer to support businesses in finding the best solution for their hiring needs – from immediate temporary support to permanent, one or multiple hires, part-time, full-time, contract, remote, hybrid, outsourcing; it all depends on the need of the business at any given time.
An established agency with experienced consultants will be well-versed at thinking outside the box to create solutions that will be individual for each company. That said, frequently a company will need immediate help and a good consultant will be ready and able to jump on it immediately.
8. Guarantees
All agencies should offer guarantees, particularly when companies are hiring permanent or contract staff. As a business, it's very costly to hire a new member of staff, when considering the costs of marketing, advertising, use of job boards and the time required to respond to applicants, (and that is just the beginning), so having guarantees in place can be a big benefit.
Agencies that work on a contingency basis (ie: not search agencies) will only require a pre-agreed fee to be paid, once they have successfully found the right candidate and they start working for the business. If they don't find the right person, no cost is entailed (so your business doesn't even incur the preliminary costs that are mentioned above).
Normally, prior to working with an agency, a contract will be agreed upon between both parties, whereby a form of guarantee will be offered by the agency on all permanent or contract hires that they successfully make with the company. This will vary, depending on the type of role and the sector a business is in, and it is agreed upon upfront. So, in the unfortunate event that a new hire may leave, there will be a form of guarantee (such as a rebate or replacement hire) that covers a set amount of time, typically a sliding scale over three months. This means that not all is lost, which would be the case if the business had recruited directly.
As recruitment agencies are specialists in their fields, the likelihood of a new hire leaving is significantly less than if a company has hired directly without any specialist knowledge and skills being invested in the process. So having a form of guarantee in place also cements the trust between a company and an agency as it is in each party's interest that a professional and successful job is done.
9. Additional recruitment services
There are many additional services that agencies can offer, from salary benchmarking, software training and assessments, to psychometric testing and much more. There are benefits which could include the likes of forums, to help educate and keep those who are in HR or hiring up to speed with current trends. Also, a successful agency will have up-to-date knowledge of the marketplace, along with a focus on the sectors within which they work.
It's not just about finding the right candidate for a temporary or permanent position, it's a much more holistic approach to recruitment that an agency can offer. Working with a recruitment agency should be a collaborative and supportive experience as if they are an extension of your own business.
10. Strong representation of your employer's brand
A good agency will work hard to represent its client's employer brand positively within the market. Frequently, an employer's brand can be inadvertently tarnished, purely through a lack of resources, which affects the journey of the candidates that have applied for their jobs.
Lack of contact with candidates, especially if they have been unsuccessful in their job application, can be a big downfall for many companies. When resources are squeezed, it is an area that can frequently be overlooked. Not only is this unfair to a candidate who has taken the time to apply for a job, or even meet with a company, but it reflects a lack of caring or nurture from the company, which can damage an employer's brand immediately.
From applying to a vacancy to potential acceptance or refusal, all candidates must be handled in a positive and proactive way. Feedback and communication are king during this process, but it takes time and skill to manage this process effectively and this is where a good recruitment agency will come into its own. Good news travels quickly, however, bad news travels faster and maintaining a strong employer brand is crucial for attracting the best candidates in the market.
Choosing the right recruitment agency for your business
Recruitment agencies can be integral to your business' success; without the right people in the right positions, it is impossible to run any organisation successfully. The right recruitment agency for your organisation helps to ensure you have the most qualified and suitable candidates for any vacancy, so you can build a strong, long-lasting team.
Learn more about how to choose the right recruitment agency for your business.
Speak to The Recruitment Consultancy
With over 25 years of experience, we understand how challenging recruitment can be.
Let us take the pressure off your in-house teams and find the best candidates for your business. Whether you are an SME or a blue-chip corporation, get in touch to learn how we can help find you the right talent.