The ultimate guide to finding the right candidates
Hiring conditions are more competitive than ever with a decreasing pool of talent, especially in specialist areas such as human resources. Companies are willing to invest in talent, but this comes with a new set of challenges. For example, the appeal of remote working since the pandemic has become more prevalent than ever as many have found more benefits and preferred the work-life balance. However, this means companies need to adapt their offer packages to suit post-pandemic needs and attract desired high calibre candidates; for most employees, a work-life balance outweighs any financial benefit.
The impact of the last 2 years has meant that many businesses have budget constraints, which increases the pressure on hiring managers who often have limited time and resources in terms of market access. Therefore, utilising the help of a professional HR recruitment agency means you can find and hire the right candidates, without squeezing in-house resources, whilst allowing your business to continue as normal.
Key challenges in attracting high calibre candidates for HR
Are you facing ever-increasing challenges to attract the right candidates to work in your human resources function?
We are all aware of how the recruitment landscape has changed dramatically over the past two years, following the initial impact of Covid where we saw many sadly lose their jobs and unemployment spikes at levels not seen for a generation. However, the lifting of all Covid restrictions has boosted confidence and helped the economy bring back some normality, but with this, working habits and employee expectations have evolved quite dramatically.
It is imperative that if you want to secure the strongest candidates, then knowing what they value post-pandemic and adapting to a new world of working lifestyles is essential.
Why use a recruitment agency that specialises in HR?
Research shows that most candidates are "passively looking" for a role, however, when a business is looking to recruit, it is unlikely that they will have the resource or time to identify and pursue these candidates – especially when they are seeking a specific skill-set (or range of competencies) to work in a specialist division such as human resources.
Established HR recruitment agencies have the best interest to manage the candidate journey from end to end. From extensive research and resourcing to successful candidate placement, an established HR recruitment agency has a lot more capacity to drive value through the recruitment process.
This capacity will generate higher calibre candidates that are best suited to your business. Additionally, experienced HR recruitment consultants will develop a different relationship with their candidates as they will be viewed as advisories, whereas it is not uncommon for recruitment managers to be naturally biased to their company brand.
The benefits of working with an HR recruitment agency
When advertising a role, it is not unusual for over 70% of the candidates who apply to be unqualified for the position. This is where HR recruitment agencies, with experienced and knowledgeable consultants, can identify the candidates who are the best fit for your business.
This ability along with a proactive approach, strong networks and an established database of qualified HR professionals will save you time, money, resource and ultimately deliver the results within the time frame and budget agreed.
Your HR hiring strategy can be strengthened with the help of a proactive and well-regarded agency, to identify and attract talent and negotiate terms, which can relieve a huge amount of pressure from the rest of your HR team.
So, what exactly are the benefits of a recruitment agency to help hire HR professionals? Here are a few of the practical benefits…
Established and long-standing HR recruitment agencies will have access to a large talent pool of pre-screened and referenced candidates. Through best-practice methods, they understand both the candidate's needs and your requirements to ensure that the right match is made for both.
The right candidate 'fit'
HR recruitment agencies with experienced consultants will be well-versed in understanding both your business needs and the aspirations of their candidates. This ability to truly appreciate both sides will ensure you only meet those candidates with the right skills and are the right 'fit' for your company culture.
Specialist HR recruiters will listen, question, and digest your requirements so that they can provide the right services to reflect your recruitment needs.  Their understanding of your business coupled with their specific market knowledge will ensure they deliver a seamless, results-driven solution.
Professional representation
Providing a high standard of customer care is vitally important for your brand reputation. HR recruitment agencies can offer an additional layer of service to ensure all candidates are nurtured to safeguard your company's reputation.  Effective communication is key to ensure candidates have a positive experience, whether successful at interview, or not.
Experienced HR recruitment consultants understand the diversity of roles within human resources and appreciate the subtle differences that can lie within every HR team. Knowledgeable HR recruiters can conduct complex interviews for specific HR positions or, for more entry-level roles, identify the right transferable skills and competencies.
An HR recruitment agency, with years of experience and a proven track record of success, will attract the strongest candidates and create a strong pool of talent which will result in a more consistent delivery of result.  Good HR recruiters have loyal clients who partner with recruitment agencies, which demonstrates a trusted source of support.
Leading HRM recruitment solutions to meet your business needs
HRM recruitment solutions can help your business with the types of expertise you need to grow a successful human resources team. Likewise, HR recruitment agencies will frequently have a division that handles more general requirements so they can help you recruit for all your business recruitment needs.
A combination of internal recruitment being supported by an HR recruitment agency will utilise strengths from both sides, uniting a strong acquisition resource in the hunt for high-calibre professionals, both temporary and permanent.
With a talent-short market, it can be beneficial to look at offering a temporary role on a fixed-term basis.  Again, this will work for some candidates as it will give them more security than on a week-by-week temporary basis.  This said, it can be a difficult call to identify the motivations of a potential candidate, especially when a work demand is urgent.  Again, an experienced HR recruitment agency will really be able to get under the skin of their candidates, to ensure you will only see the right people for the roles.
If your business is looking to attract high-calibre candidates, from entry-level to management and director levels, then an experienced HR recruiter can help. Permanent and contract HR recruitment solutions will support and strengthen your candidate search, helping to identify people with the right mindset and competence required for specific job roles within your company.
Why the right recruitment solution is important for your business
From acquiring new talent to continuity of business activities, the importance of an effective HR team never ceases.
Working with a recognised HR recruitment agency can assist your business in evaluating its present and future staffing requirements. Additionally, safeguarding your employer brand and recruiting professionally demands the skills and techniques that only accomplished and experienced HR recruitment consultants will possess.
Your company's reputation is enhanced by a professional recruitment process; the adoption of a good application process by a company organisation will aid in increasing the trust of job applicants. This, in turn, attracts the attention of highly qualified candidates for your company.
Effective recruitment, specifically within such a core part of any business such as human resources, requires a consistent level of quality. Thinking outside of the box to locate high-calibre candidates will ensure your business attracts the strongest talent in the market, which, when backed up with a professional service will make certain that the onboarding process is seamless, every time.
Temporary HR recruitment solutions
If your business demands fluctuate throughout the year, this may well have an impact on the HR function of your company. Bringing in temporary staff to support your company is a straightforward solution to increase productivity and ensure your services or products are delivered on time. This is particularly pertinent during holiday periods, where planning for staff vacations is crucial.
However, within HR, the demands can be more complex, and it is important to bring in the right support that will not only have the right skills, but ideally be a good cultural fit.
As we know, staff absenteeism can happen for a plethora of reasons and these reasons bring with them very short periods of notice. An HR recruitment agency will be able to assist you with planning and help you identify the main priorities for resourcing the right talent within the time frame being faced. Additionally, temporary HR workers are brought into businesses for fixed periods of time when specific skill-sets are required. This is a great solution for project-led requirements or when a permanent staff member has planned leave for a longer period of time.
Finding the right temporary employees is essential to ensure business operations, both in HR and across other business areas, continue to work efficiently and at a high standard. A good recruitment agency that specialises in temporary HR recruitment solutions will need to work in a proactive and transparent way, to ensure the best candidates can be found on time and on budget.
Permanent and contract HR recruitment solutions
When looking to work with a recruitment agency that specialises in HR, it is wise to look for one that has an established foothold in the geographical area that you are looking to recruit in. That said, with many roles now being remote or hybrid, you will also need to identify the 'reach' that the agency has within the sector and a well-respected HR agency will attract the best talent based on how they treat both their clients and candidates.
Likewise, if they are able to support the HR community in other ways, their knowledge and experience will also mean they will easily be able to approach and attract high-level HR professionals and those looking to enter into this specialist field.
There are many ways in which you can bring a new employee into your business, either within HR or elsewhere within your organisation. So, working with an agency that can offer recruitment solutions across the board, brings many benefits – most significantly a comprehensive understanding of your company culture. However, with a very much candidate-led market at the moment (2022), you must look at offering as much commitment as you can to secure the strongest candidates.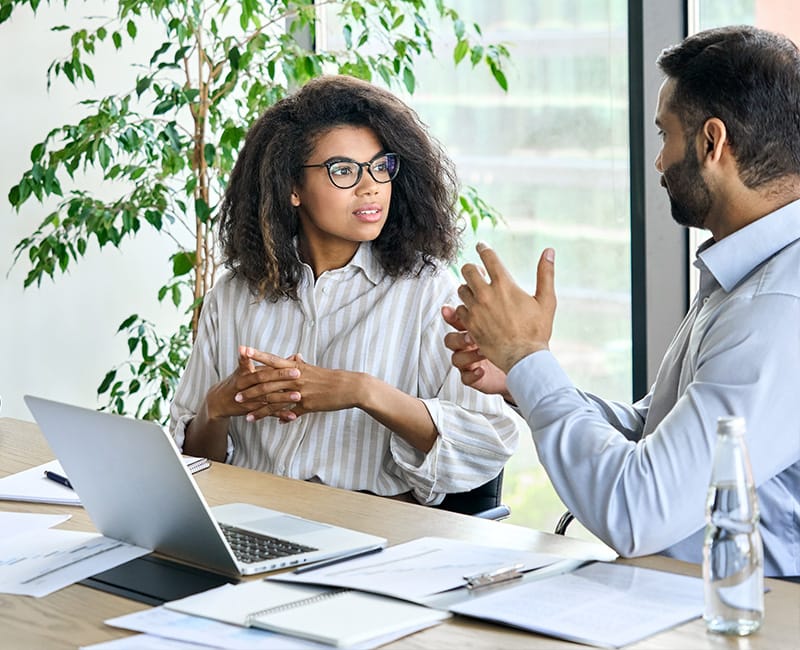 If you are unsure about the long-term requirements of a role, you may want to consider bringing in a new HR employee on a temp-to-perm basis or on a fixed-term contract. Temp-to-perm and fixed-term contract options are great as long as they also fit the expectations of the candidate. This is where an experienced HR recruiter is invaluable as they will be able to identify if a candidate is truly the right fit – the last thing you want in any business is to train up a new hire and to see them move on after a short period of time, due to the lack of long-term commitment.
Contingency or retained recruitment – what are the differences?
If you are working within human resources, it is highly likely that you will have come across the two different styles of recruitment methods and associated fee structures used for permanent hires. Within these different styles of recruitment, some key factors that need to be taken into consideration when deciding which may be best for your business:
Retained recruitment
This style of recruitment sometimes referred to as 'head hunting', is usually engaged when looking for very specific skill-sets or confidential senior roles that necessitate the use of search skills to be used by the agency. Retained recruitment is very targeted and will require the recruiter to work closely with their client, therefore, fees will start being charged from the outset before any work commences.
Retained recruitment fee structure
Prior to working on a vacancy, an agency that works on a retainer will normally require an initial fee that is typically 25% – 50% of the overall fee that has been agreed with the client. The remaining amount will either be charged in a further 1 or 2 instalments, depending on the agreement that is set.
If the agency is for any reason unsuccessful at finding the right person for the role, the initial (and possibly the second) fee is still payable. This is one of the main differences between retained and contingency recruitment – agencies using contingency recruitment methods will only charge when they have successfully found the right person for a position.
Contingency recruitment
A large proportion of recruitment agencies work on a contingency basis, whilst also using proactive search and attraction methods to find the right candidates. Additionally, those that have a strong foothold in their market will also maintain a solid database of 'passive candidates' (candidates that are open to new opportunities but are not actively searching) therefore, having a broad pool of talent to access for their clients.
Recruiters that work on a contingency basis can adapt their recruitment methods to reflect the needs of their clients, whether recruiting for entry or director-level roles. Likewise, more experienced recruiters can sharpen their approach, so that if recruiting for more specialist roles, they can be more targeted and collaborative, whilst also using a more general 'attraction' approach for less-skilled positions.
Contingency recruitment – no hire, no fee
One of the most significant differences between retained and contingency recruitment is the charging of fees.
Recruitment agencies that recruit on a contingency basis will only receive payment after their successful candidate is hired into their new job. There are no incremental payments required prior to the candidate starting….no placement, no fee.
A good contingency agency will also offer a guaranteed rebate period, should a new hire not work as planned. This period will normally be calculated on a sliding scale, so that should the new hire leave within a specific time frame, a percentage of the placement fee will be rebated to the client. Or, as an alternative, a new candidate is found at no additional cost to the client.
Human resources talent management when you need it most
As the battle for talent increases, companies who genuinely want to access the best talent available will have to invest in agencies to complement their efforts. At The Recruitment Consultancy, our recruitment agency model continues to evolve as tech blurs lines and adapts to the "new normal". We can help you find experts in each niche field to ensure you have the high calibre candidates who can generate the results you want. Our outreach techniques and industry experience mean we can help to ensure your company packages appeal to candidates post-pandemic, which will save you time and money and prevent you from making costly mistakes.
The Recruitment Consultancy's leading HR recruitment solutions
With a track record of success since 1997 and businesses that continually partner with us to strengthen their recruitment strategy, we offer temporary, permanent and contract office recruitment solutions (both office-based and remote-working) for a broad range of sectors across Surrey and Sussex.  So, whether you are an SME or a blue-chip corporation, let our specialist HR recruitment team do the hard work for you.
Find out more about The Recruitment Consultancy's HR recruitment solutions by getting in touch, today.
The Surrey & Sussex HR Forum
If you work in human resources, why not join our HR Forum, an exclusive FREE member-only group for HR professionals helping you access insights and stay connected with industry experts.
Offering a programme of FREE topical webinars, events and legal updates throughout the year, the forum focuses on the most pressing issues and challenges facing the industry today.
With a membership of over 500 HR professionals, the forum has a strict 'no-sales' environment to ensure that members can learn and network with other like-minded HR professionals from a broad range of industries.
Read more from The Recruitment Consultancy
To see all our posts, please visit our News page
To see all our news posts, please visit News.