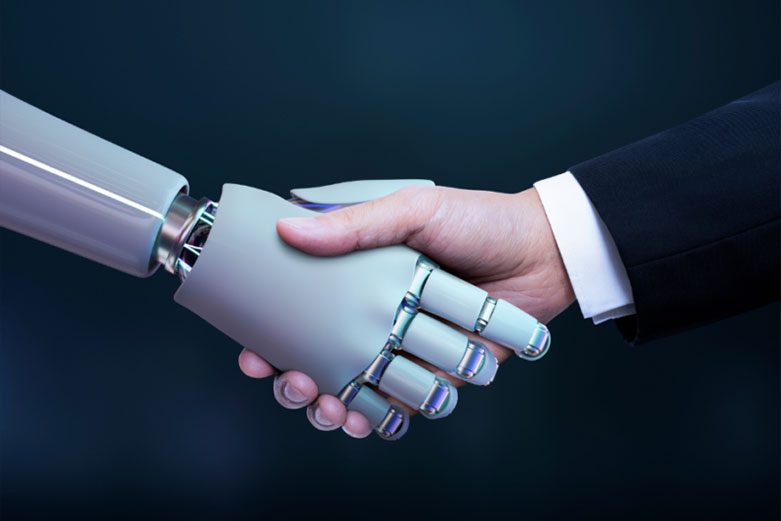 2023 is shaping up to be the year where artificial intelligence (AI) dominates many aspects of our lives. With tools like ChatGPT taking over, it's understandable that people are questioning the role AI may play in the future of their life and work. The Oxford Study, one of the most commonly shared reports into AI in the workplace, found 47% of total US employment is at risk due to rapid computerisation, but how does this translate specifically to recruitment?
LinkedIn research shows 76% of recruiters said feel that AI technology will have a big impact on their profession and it's evident that changes are already underway. As technology advances, certain job positions may no longer be necessary. However, in the recruitment industry, AI can be a useful tool to assist current methods but will never completely replace the significant roles of human recruiters. In this blog, we explain how AI may play a bigger role in the whole recruitment process, but ultimately how experienced recruiters who have the know-how of a human being is essential to success.
How is AI changing recruitment?
Artificial intelligence is changing recruitment in many ways including:
Changing how HR employees sort and manage CVs and applications, with tools available to minimise the time spent sifting through applicants.
Changing how targeted job campaigns can be as HR professionals can utilise AI tools to better target the correct candidates for specific roles.
Improving diversity, equity, and inclusion in recruitment processes by minimising unconscious biases and selecting candidates based on skills and keywords/phrases, rather than any defining characteristic or demographic.
Recruitment has greatly developed from the pre-internet world where the best place to find recruits was to place an ad in the local newspaper. As new technologies develop, organisations can further enhance their recruitment processes and supplement the work of their experienced employees with valuable machine learning. It is vital to remember that AI is not a replacement for experienced and passionate recruitment experts, it is a useful tool for supporting their work and allowing them to focus on more advanced and nuanced tasks.
How is AI used in recruitment?
The vast growth of AI in almost all industries has shown how technology can be used effectively for a wide range of processes. In recruitment, AI can be used in different areas of work to streamline processes for greater efficiency and better results. Different organisations are incorporating AI tools to:
Source and screen candidates: selecting those who best fit a role based on the most relevant skills, qualifications and predefined keywords or phrases.
Onboarding and nurturing new employees: AI can be used effectively to personalise a boring or faceless onboarding process, as it learns on the go and can make digital onboarding more engaging, employee-focused, and personalised.
Make better use of their data: recruitment departments and organisations hold a goldmine of candidate data and AI tools can quickly analyse and interpret your data and use it effectively for recruitment campaigns and filling vacancies.
Putting AI to use in your organisation to aid recruitment strategies will support your activities and provide more opportunities to access the best calibre of candidates for each role. However, there is no need to fear AI taking over, as AI simply supports the work of the experienced and talented recruitment professional whose input is always needed to make the right decision in hiring new employees. After all, it takes a human eye to quality a person's soft skills, work ethic, and aspirations.
How to use AI in recruitment?
We've explored how AI is becoming more common and used regularly in recruitment, let's look more closely at specific tasks where AI can support the recruitment process:
Automated screening processes
Some vacancies that require a lower level of skill or experience, are more likely to attract a high volume of applicants. Sifting through applications and selecting those which most closely meet the requirements of the job can be a long and laborious task. Automated CV and application screening technologies use AI to quickly sort through large volumes of candidates focusing on one of the essential skills or key expectations for the role. AI quickly learns the requirements of the job and the qualities a good candidate needs and will screen out those who do not fit the bill.
Improving candidate engagement
Most job applicants never get a reply after sending through their applications. While we're operating in a candidate-driven market, organisations cannot afford to put off potential future employees due to a seemingly impersonal recruitment process. Improving the candidate experience will in turn help to attract better talent and using tools such as chatbots driven by AI can help boost candidate engagement, as they benefit from real-time interactions as part of the recruitment process.
Recruiter chatbots rely upon natural language processing and can ask questions and give answers based on the job in question. They learn over time and can quickly ascertain a candidate's needs and requirements from a role, allowing them to make recommendations and suggestions. A chatbot alone is not enough to convince and attract candidates and recruitment professionals remain integral to ensuring roles are well promoted, advertised, and sold to top candidates.
Digitising interview processes
While this is a new development it is growing in popularity, AI-based video interview software can assess many different aspects of a candidate's performance. It can look at everything from facial expressions to speech patterns and choice of words, all of which can contribute to whether a candidate is a good fit for the role and your company. Digital interview processes are particularly useful for remote roles where you may never meet the candidate in person.
Why AI simply cannot replace human recruiters
AI is a great help in pushing forward many aspects of the recruitment process, but it will never be a replacement for human talent. AI cannot yet display empathy and does not have any feelings regarding a candidate finding or not finding a role. Good recruitment consultants care about their candidates and will work tirelessly to find them the perfect position.
It takes a human with strong communication skills to present an opportunity effectively to a prospective candidate. AI might be able to match up the algorithms, but you need a real person to connect the right people with the right employers to maximise business success.
Read more on why a recruitment agency is key in the hiring process.
Leave the work to expert recruitment consultants
Investing in the latest tools may seem like a quick fix for filling vacancies and attracting candidates, but it won't deliver the same quality of qualified candidates as an experienced and knowledgeable recruitment consultancy. The impact of hiring poor candidates can ripple through the business from HR to operations so finding the best candidates can't be done by AI alone.
As a well-established recruitment consultancy, we have been creating networks for over 25 years and have a broad base of talented candidates to draw upon for our clients. The true selection process for hiring the right candidates is about more than automated screening. It requires time, experience, knowledge, and intuition.  A good recruiter will challenge the norm and come up with solutions – sometimes it takes the perspective of someone outside of a business to find the right fit.
Experienced and passionate recruiters like the team at The Recruitment Consultancy care about our candidates and clients, putting the best people in the most suitable roles. Explore our employer solutions to find out what we can offer your business.
Want to know more? Get in touch.